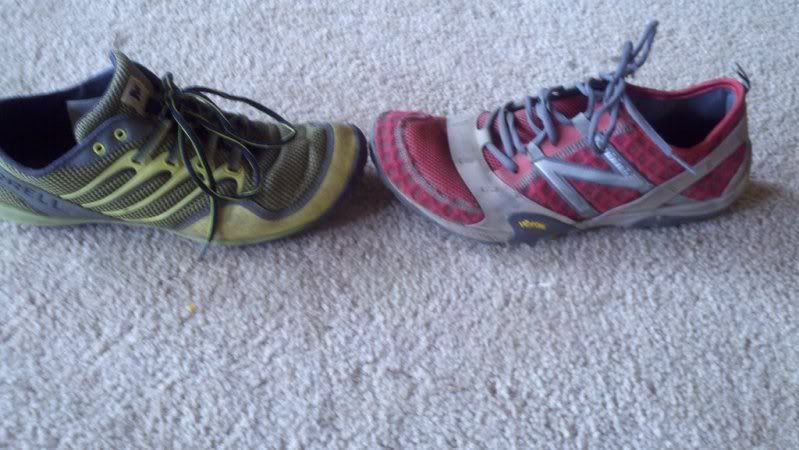 Before I learned Natural Running and switched to minimalist shoes, New Balance was my go to company for running shoes. So in 2010 when I learned that New Balance had intentions of producing a truly minimalist shoe my heart raced with anticipation. I would stalk the New Balance website to sneak peaks at the prototype, I even signed up to be a New Balance product tester in hopes that I might receive a pair before the release. About the time that the New Balance Minimus was about to be released I purchased a pair of Merrell Trail Gloves instead. A few month later and I now own both the Merrel Trail Glove and the New Balance Minimus.
Merrell Trail Glove or New Balance Minimus
There are two reasons why Merrell Trail Gloves were my initial choice over the New Balance Minimus.
Zero Drop - Merrel Trail Glove is a true zero drop shoe. That means that their is no height differential between the toe and the heel. New Balance showed a little hesitancy to commit to a fully minimalist shoe by still including a 4mm heel lift in the final production of Minimus. (Click here to find out why heel drop is important.)
Release Date - Merrell got the jump on New Balance by releasing the Merrell Trail Glove a month or so earlier than the New Balance Minimus.
Why Change a Good Thing?
I do nearly all my running on trails. This is particularly rough on the feet. This is the reason why I now choose minimalist shoes over simply running barefoot. when running barefoot the sharp rocks, sticks and sticker bushes would frustrate me and send me home after only four to five miles. With my Merrell Trail Gloves it seemed I could run forever. Until one day when sprinting downhill I hit my heel on a rock, brusing my heel and making the rest of the run, as well as the rest of the week rather unpleasant. With this experience I figure a compromise was in order. I did not want a heel lift in my running shoe, but I equally did not want another bruised heel.
Enter the New Balance Minimus
So far I am quit satisfied with the performance of the New Balance Minimus. They are lightweight. They bend and flex easily, they seem to offer the right balance of protection and ground feel, the toe box is not as wide as the Trail Glove, but it is wide enough to accommodate my foot. not to mention they get alot of comments.
Though I still prefer a zero drop shoe, the heel raise is not so significant that I begin to heel strike.
The sole of the New Balance Minimus' forefoot is definitely softer and more flexible than that of the Merrel Trail Glove. This means more ground feel, but less forefoot protection.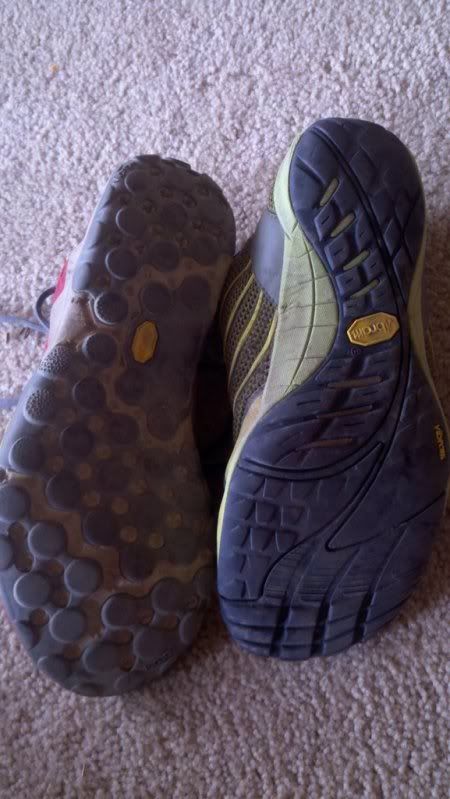 I am unsure of the durability as the sole seems to already be showing wear and tear and I have only 30 miles on them.
Socks or No Socks?
Definitely with socks. You can wear these shoes with no socks on occassion, but if you plan to wear them often it is best to try them on while wearing socks. to much naked foot and the shoes will become so foul you may start to lose friends.
True to Size?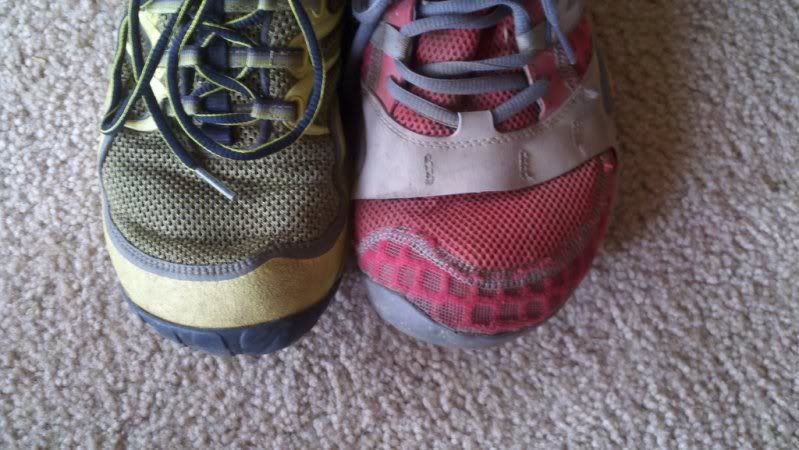 I bought mine 1/2 large. I usually wear 10 1/2, but while wearing socks the toe box of the 10 1/2 seemed a little snug.
New Balance Minimus Conclusion
I would definately reccomend this shoe to any runner interested in minimalist running. The raised heel, though not necessarry is rather unobtrusive and may even make transitioning to minimalist shoes easier on the calves.
To read the full Merrell Trail Glove Review Click Here.
or see the Merrell Trail Glove 700 mile update.