Happy 700th Merrell Trail Glove!!!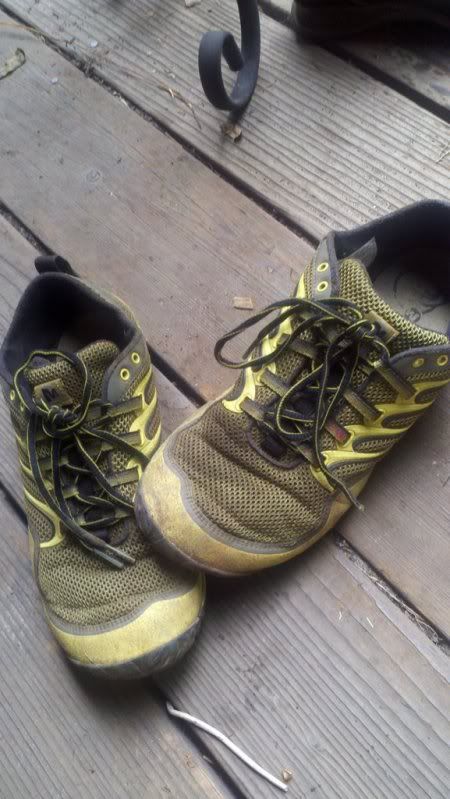 Today my Merrell Trail Gloves are celebrating their 700 mile birthday(nearly all of those miles on trails,) and I thought I would celebrate by letting my readers know how they are doing.
Having been a dedicated runner for many years, I have run the tred off of more shoes than I can remember, but it is not often that I have put 700 on a single pair. In fact most shoes will never see 500 miles.
What has allowed the Merrell Trail Glove to go the distance when so many others fall short?
In a traditional running shoe the first thing to break down is the padding. as can be expected, the padding breaks down more in the places that absorb the majority of the impact. this can lead to a consistent uneven foot placement with each stride. this can lead to repetitive movement injuries such as runners knee.
Merrell Trail Glove has no padding. this means there is no padding to break down, which translates to many more injury free miles. This means less money on running shoes and more money for entry fees.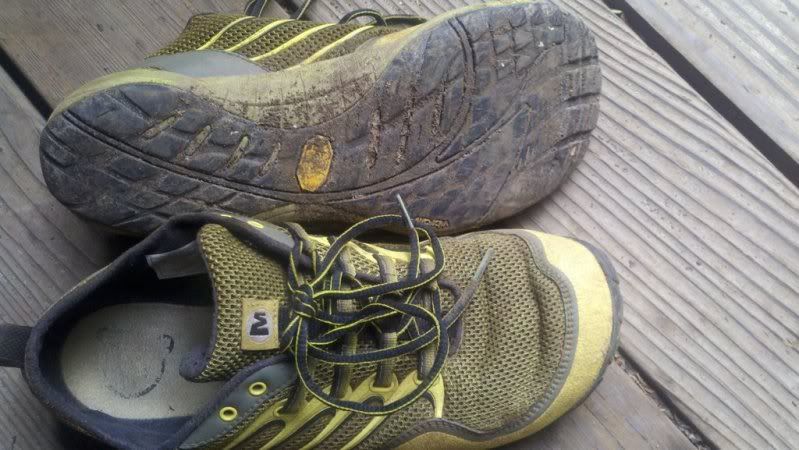 There are some considerations that should be taken that I have learned over the last 700 miles.
1. Take time to transition to a zero drop shoe.
Zero drop shoes, such as the Merrell Trail Glove, requires the involvment of the muscles of the calves which may not be appropriately conditioned if transitioning from a running shoe with a heel-toe differential. Begin by wearing the Merrell Trail Glove for one or two shorter runs per week. Slowly incorporate more miles over the next three to four months. Here is a page on Getting Started Minimalist Running.
2. Wear Socks.
Upon purchasing the Merrell Trail Glove I was under the impression that you do not need to wear socks. So sockless I was until my shoes were to putrid to touch. I definately recomend wearing socks with these shoes. A thin layer of socks not only kept my shoes and my feet socially acceptable but also stopped the rubbing on the big toe that I discussed in my initial review of the Merrell Trail Glove.
3. Watch the heel.
The best and worst thing about the Merrell Trail Glove is the lack of padding beneath the heal. This allows for a much smoother and natural stride, however, if you do misstep and land your heel on a rock or other solid object this can bruise your heel which can make the rest of your run considerably less comfortable.
At 700 miles I am not yet ready to retire my Merrell Trail Gloves, but I am bumping them from my primary shoe to my secondary shoe. with the recent influx of minimalist running shoes I have many other shoes to review to make sure RunNaturally.org continues to provide the best minimalist advice.
Do you have these shoes? Leave your review below.